21 August 2008:

Two new clippings added to the REVIEWS and another to ANALYSIS section. All courtesy of Mark Murton.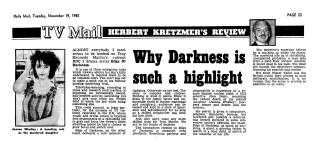 ---
20 August 2008:

New pics added to the INTRODUCTION and EPISODE GUIDE pages courtesy of Mark Murton.



---
19 August 2008:

More thanks to Mark Murton for the following newspaper clipping (click to enlarge) which has been added to the AWARDS section.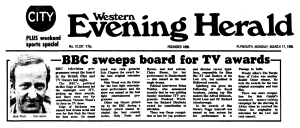 ---
18 August 2008:

Special thanks to Mark Murton for the following US advertisment (click to enlarge) which has been added to the REVIEWS section.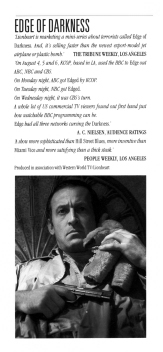 ---
11 September 2004:

Well we promised that if somebody sent us any new material in we'd update the site. Special thanks therefore to Joe Short for taking the time to transcribe director Martin Campbell's production notes. In return we've finally uploaded the long promised TV ZONE EDGE OF DARKNESS FLASHBACK FEATURE. For those non-UK residents who enquired about the possibility, happy reading (it's a damn fine article). The AWARDS section has also been updated with EOD making yet another "best of" list.


---
15 July 2003:

The May 2003 issue of the UK Magazine TV ZONE boast a spectacular 6 page article on episode 1 of EDGE OF DARKNESS featuring some wonderful photos. The article promises to go further in the next issue. For those of you who missed it or live outside the UK, back issues and subscriptions can apparently be sourced at http://www/visimag.com/vi-direct. We'll try and contact and the magazine and see if we can use some of their material on this site. Stay tuned!


---
20th June 2003:

Have updated the VIDEO & DVD section with a second page of information devoted solely to the new DVD release. Special thanks to James Lewis for the new details regarding the restoration of the prints.


---
13th June 2003:

Thanks to James Lewis for the article LET'S ALL HIDE IN THE LINEN CUPBOARD (Jack Kibble-White on the nuclear issue on British television) which contains references to EDGE OF DARKNESS. It's available in the ANALYSIS section of this site.

Also added a quick review by Brian Courtis.


---
05th June 2003:

The release of the EDGE OF DARKNESS "SPECIAL EDITION" DVD has led to a deluge of confused enquires about which DVD release is which. We've tried to make some sense of the whole messy DVD history on the VIDEO & DVD page. There's also a few "fan" inspired alternate DVD covers (more suggestions most welcome). And don't forget to drop into the MESSAGE BOARD and let us know what you think of the new release.


---
14th April 2003:

Despite a flurry of internet rumours a few weeks ago, the new SPECIAL EDITION EDGE OF DARKNESS DVD has not been cancelled or delayed and is on track for a late May 2003 release.

Rumoured details as follows:

-3 disc DVD set. Region 2/PAL.

-All six episodes complete and unedited, transferred from original master tapes.

- New 35 minute documentary entitled "Magnox: the Secrets of Edge of Darkness" featuring producer Michael Wearing, writer Troy Kennedy-Martin, composer Michael Kamen, stars John Woodvine, Charles Kay and Ian McNeice; Bob Peck and Joe Don Baker (obviously some of this must be archive footage).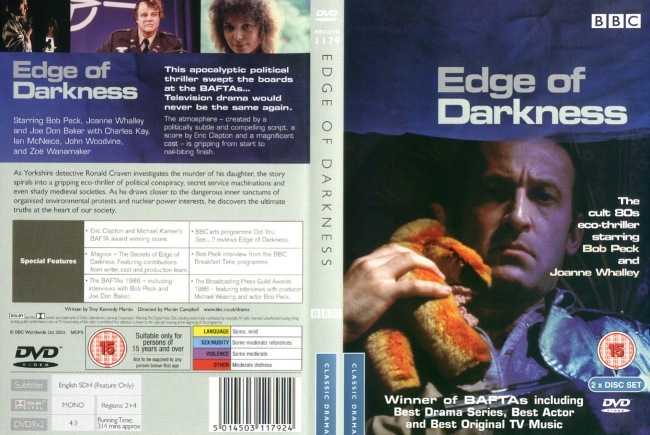 -Isolated music track.

-Photo gallery.

-Alternative version of the final end titles.

-Promotional segments from UK TV shows Breakfast Time and Pebble Mill.

-BAFTA Award feature.

-Roundtable review from Did You See?


---
31st January 2003:

More news on the MESSAGE BOARD regarding the new Special Edition DVD and a brief INTERVIEW WITH DIRECTOR MARTIN CAMPBELL regarding the film. The series also copped a mention in Dreamwatch Magazines 100 Greatest SF Moments and you can read their entry on the AWARDS page.


---
17th January 2003:

The SOUNDTRACK page has finally been updated and there's some interesting news on the MESSAGE BOARD regarding a new Special Edition DVD.


---
05th January 2003:

A big thanks to everybody who emailed to say how much they enjoyed the site!

This is, of course, the first update since the site opened. There's a whole new look to the site - simpler but a bit "darker". There's also dozens of new images scattered around and the new section entitled BACKGROUND.

Feel free to voice your opinion on the new look (is it too dark?) and please don't forget to drop by the MESSAGE BOARD. There's some interesting discussions slowly ticking away there.


---
30th April 2002:

Welcome to NORTHMOOR : THE EDGE OF DARKNESS fan website! A lengthy search of the internet revealed a few episode guides and isolated reviews scattered around, but there were no entire websites devoted to the series (Adelaide University in Australia apparently hosted a rather good site a few years ago but it's long gone now).

The scattered nature of all the material sourced has meant it was almost impossible to contact all the websites sourced. So rather than ask permission we've "borrowed" what we thought appropriate and tried to credit all the websites and authors involved. Please email if you'd rather we didn't use your material; we've tried to do the right thing.

So here we are to bring you all things EDGE OF DARKNESS. Please leave a message on the MESSAGE BOARD and say hello or email us with any suggestions, complaints or gushing praise you may have.


---