AWARDS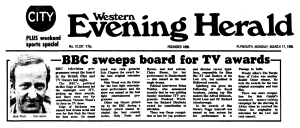 1986 British Academy Awards
BAFTA TV Award: Best Actor [Bob Peck] - winner
BAFTA TV Award: Best Drama Series/Serial [Martin Campbell, Michael Wearing] - winner
BAFTA TV Award: Best Film Cameraman [Andrew Dunn] - winner
BAFTA TV Award: Best Film Editor [Ardan Fisher, Dan Rae] - winner
BAFTA TV Award: Best Original Television Music [Eric Clapton, Michael Kamen] - winner
BAFTA TV Award: Best Actor [Joe Don Baker] - nominated
BAFTA TV Award: Best Actress [Joanne Whalley] - nominated

Above Information from FANTASTIC FILM AND TELEVISION




Edge of Darkness was recently voted no. 15 in the BRITISH FILM INSTITUTE ALL TIME TOP 100 TELEVISION PROGRAMMES.




In February 2002 top Sci-Fi/Fantasy magazine Dreamwatch listed their 100 GREATEST MOMENTS IN SCIENCE FICTION AND FANTASY. Clocking in at number 75 was:
Edge Of Darkness
Raid On Northmoor


Fantastic 1985 mini-series starring the late, great Bob Peck as grief-stricken detective Ron Craven drawn into the heart of a nuclear nightmare. Featuring one of British television's most-sustained suspense sequences, Craven's raid on the Northmoor reprocessing plant with Joe Don Baker's Darius Jedburgh in tow, it still stands up today.

In July 2004 EDGE OF DARKNESS was named as one the 50 most influential television programmes in British broadcasting history. Broadcast magazine, which compiled the list, said the 50 programmes were chosen because they "pushed television boundaries". The judging panel, which included Endemol UK chairman Peter Bazalgette, BBC controller of drama series Mal Young and Five's head of news and current affairs Chris Shaw, was asked to look for shows that had invented, or reinvented, genres. The list, which was not ranked in any order, was compiled by 16 judges, 13 of whom were media executives. EDGE OF DARKNESS was listed in the drama category alongside seven other series: Boys from the Blackstuff, Brideshead Revisited, Brookside, Cathy Come Home, Doctor Who, The Forsyte Saga and The Singing Detective.